Royalton Place Assisted Living and Memory Care
Located in Milwaukie, Oregon, a charming small town just south of Portland, Royalton Place exudes that comfortable small-town feel. It's a warm, intimate senior living community where residents know — and genuinely care about — one another. Royalton Place offers vibrant assisted living and memory care in a location that offers the best of urban and small-town living.
Special savings available for a limited time*
Address + Phone
5555 SE King Road
Milwaukie,
OR
97222
Phone: 503-653-1854
Living Options
Assisted Living
Memory Care
Respite Care
Featured Amenities
Robust life- enrichment
Fitness center
Pet-friendly senior living community
Outdoor patios
Our Living Options
Our pet-friendly senior living community in Milwaukie, Oregon, offers assisted living and research-based memory care. This combination of senior lifestyles makes it possible for couples to remain close even if their care needs are different.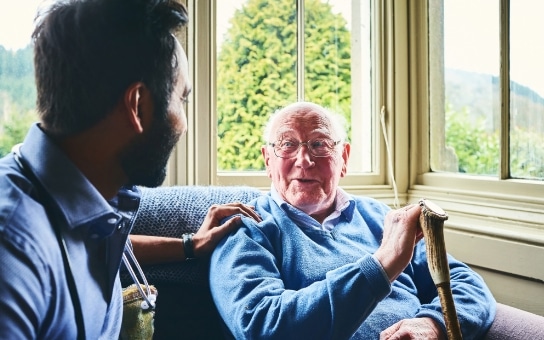 Assisted Living
The wellness-focused assisted living lifestyle at Royalton Place has been the difference between living and living well for those who have turned to our senior living community for supportive living.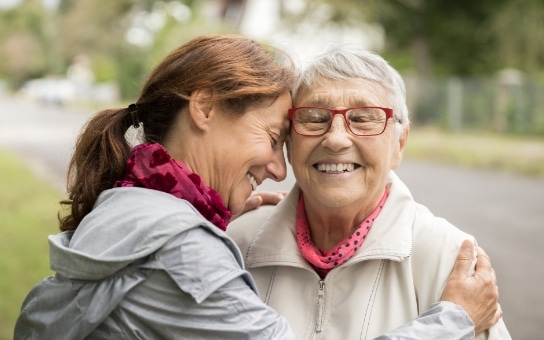 Memory Care
For those whose lives have been touched by Alzheimer's or other dementias, memory care at Royalton Place combines decades of best-practices research with proven programming approaches.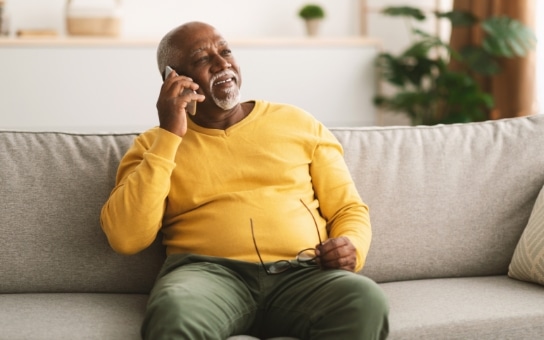 Respite Care
Respite care — or short-term stays — is designed for those caring for aging loved ones who may be going on vacation or who may simply need a temporary respite from caregiving.
---
Royalton Place … our difference.
It's easy to notice the warm bonds among staff, residents and families at Royalton Place. The close-knit family feeling comes from a staff committed to providing personalized support that sometimes means knowing your favorite flavor of ice cream and other times means lending a helping hand with life's daily tasks.
At Royalton Place, residents often say it's the smallest things that make the biggest difference. A friendly hello delivered with a smile. Listening with interest and enthusiasm. Anticipating needs and responding appropriately. Respecting differences. Celebrating accomplishments. Sharing joy. It's all found here.
But don't take our word for it…
Our residents weigh in.
"I'm so glad we chose a Cascade Living Group community."
---
A Day in the Life.
Life at Royalton Place is wellness based. Whether assisted living or memory care is needed, we help residents enjoy their highest level of independence so they can approach each day with renewed vigor.
Dining at Royalton Place.
---
What's Near Our Milwaukie Senior Living Community.
Elk Rock Garden
11800 S. Military Lane
Portland, OR 97219
Milwaukie Bay Park
11211 SE McLoughlin Blvd.
Milwaukie, OR 97222
North Clackamas Aquatic Park
7300 SE Harmony Road
Milwaukie, OR 97222
Sara Hite Rose Garden
5440 SE Kellogg Creek Drive
Portland, OR 97222
Milwaukie Museum
3737 SE Adams St.
Portland, OR 97222
Milwaukie, Oregon, is on the banks of the Willamette River. It's the birthplace of the Bing cherry, and it's considered the Dogwood City of the West for the spring blossoms that dot its landscape. Royalton Place is minutes from Clackamas Town Center and is close to shopping, restaurants, wineries, taprooms and more. World-class medical care is nearby in Portland.
Floor Plans
Size up your living space with a well-appointed studio or one-bedroom senior apartment. Each assisted living apartment features a kitchenette. Ranging in sizes and designs, there's something for every taste, need and budget. No matter which floor plan meets your family's needs, a world of amenities and services, opportunities, and excitement is just steps outside each apartment door.
Take a Virtual Tour of Royalton Place Assisted Living and Memory Care
Reserve your apartment by December 31 and lock in 2023 rates. Call now!
What is the true cost of living at Royalton Place?
Meals, check. Social life, check. Maintenance, housekeeping, check, check. Support when it's needed, check. When you factor in everything covered in the pricing at our Milwaukie assisted living and memory care community and compare it to the cost of remaining at home, you'll discover the real value of senior living and find a cost-effective option designed to enhance life in every way.
---
Meet our team.
Everyone at Royalton Place loves what they do — and it shows. In fact, many members of our staff have been with us for much of our 30-year history. From our culinary team to our care partners to our maintenance crew, our hands-on team enjoys a sense of real empowerment. They know the residents best, so the leadership team listens to and learns from them. While every associate is committed to resident comfort, safety, care and happiness, it's this hands-on team that creates the genuine feeling of community found here.
Care Team
Miranda Nichols
Med Tech
Miranda says there is nothing more rewarding than working in memory care. Even though the residents' memories have faded, she bonds with who they are today and enjoys joining them on their journeys.
Office Team
Kayla Knight
Executive Director
Kayla has worked in other senior living communities, but Royalton Place is where she has happily and enthusiastically put down roots.
Cher Huppunen, LPN
Wellness Director
Cher has been in the medical field for 17 years, from CNA to LPN Associate Wellness Director. Her passion has always been providing compassionate and quality care for seniors and giving families the best possible care for their loved ones.
Jennifer Theisen
Community Relations Director
Jennifer has been with Royalton since 2020, working in various positions around the community. She's most passionate about working with seniors and helping people, making the Community Relations position perfect for her!
Tiffany Villa
Business Office Manager
Tiffany worked at our sister community, Deerfield Village, before joining our family in 2019. Her passion: knowing she can make a positive difference in the lives of our residents.
Angela Dionne
Life Enrichment Director
A talented artist, Angela enjoys creating programs that bring out the inner creativity of residents. She started as a caregiver and was promoted to med tech before landing her current dream job!
Kim Haddock
Resident Services Director
Kim has been in the Senior Living Industry for 30 years. She holds a strong passion for supporting and caring for seniors through their last years.
Lance Chess
Dining Services Director
Lance has a real passion for food. Building on a lifetime of culinary curiosity, Lance believes in using the shared table to build community and lasting friendships.
Discover more Alzheimer's & Dementia Insights
Get in Touch.
It would be our pleasure to talk to you about assisted living and memory care in our Portland, OR, community and how we may be of service.
Special savings available for a limited time * — call now to speak with an advisor!
* Limited availability. Some restrictions apply.
Our Health and Safety Promise
Protecting our residents and team is a priority.
Here's how we do it.