Memory Care, Defined.
Even with memory loss, connected and meaningful living is possible. There is still a capacity to grow and to feel fulfilled. To discover new things and find new friendships. To experience joy.
Everyone knows someone whose life has been touched by Alzheimer's disease or dementia. Our hope is to make their lives better by offering supportive, uplifting lifestyles and specialized programming that addresses their unique needs with respect, dignity and kindness.
---
Mosaic Memory Care at Cascade Living Group.
Mosaic is the art of creating patterns or pictures with small bits of colored glass, stone or other materials. Our Mosaic Memory Care Program is a tribute to the importance of memory — recognizing that each of us is made up of small, beautiful fragments of different life moments: events, experiences and accomplishments.
And, like a mosaic, memory is unique and precious. We celebrate this, and that's why Mosaic Memory Care is carefully tailored to each of our resident's needs.
What memory care means for you and for your loved one.
1. Provides a safe, comfortable, enhanced lifestyle for those living with Alzheimer's disease or any other form of dementia.
2. Offers support, renewed hope and peace of mind for those who love them.
---
Thank you for all the love and compassion you gave to my father Richard. You not only took care of him, you took care of me. My only regret is not discovering you sooner.
---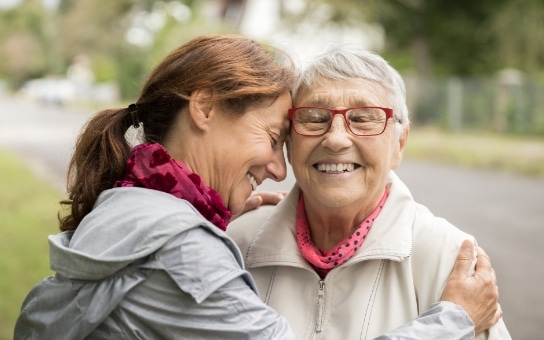 The benefits of a memory care community.
In addition to life-enhancing services and person-centered care, residents have access to 24-hour support, a specially trained staff and research-based programming and therapies — all offered in a secure setting.
"You shouldn't have to
do this journey alone."
— Teepa Snow
When is it time for memory care?
The short answer is, "It's personal." The time to make the transition into memory care living depends on individual circumstances. But there are some common signs that could signal it's time to consider memory care for your loved one, and for you.
Is your loved one:
Wandering outside or becoming lost?
Displaying challenging behaviors like anger or paranoia?
Having increased care needs that would better be provided by a professional?
Causing you concern for their safety and the safety of others?
Having difficulty with daily tasks like eating or personal hygiene?
Caregiver burnout can also indicate it's time for memory care. Some signs include:
Injuries from lifting or moving a loved one.
Declining physical or emotional health.
Feelings of isolation from other family members or friends.
Exhaustion or depression.
Gaining or losing weight.
What to look for in a memory care community.
Choosing the right memory care community for a loved one living with Alzheimer's disease or other forms of dementia is one of the most important decisions you may make. What to look for:
A dedicated memory care team
Not all senior living communities have a care team
Specially trained nurses manage and coordinate health care needs.
Family connections
Families are invited to partner in the care planning of their loved ones.
Families participate in activities and/or meals.
The community hosts family support meetings, gatherings and events.
A nurturing environment
The staff helps residents connect with their personal histories through reminiscing.
The community recognizes and honors its residents — understanding that each of them is a result of their unique and varied life experiences.
A secure, homelike space
Families, friends and pets are welcome.
"Biography boards" are outside each apartment — they help remind a resident, "This is my home," and serve to remind our associates of each individual's rich history and amazing story.
Meaningful interactions
The staff interacts compassionately with the residents.
The staff provides comfort, personal care and support.
There are planned activities like parties, games, scenic outings and entertainment.
Memory care programming
Specialized programming that eases stress, builds confidence and enhances life.
Planned activities like parties, games, scenic outings and entertainment are plentiful.
Wellness programs
Wellness programs are offered and are specifically tailored to individual abilities and needs.
---
What is the true cost of memory care?
The true value of memory care can be priceless when you factor in the peace of mind that comes from having professional expertise help you make decisions and provide support and care.  
Memory care also eases the burden caregiving often has on the emotional well-being and physical health of the caregiver while giving back time lost to providing care.
At Cascade Living Group, our monthly memory care pricing ranges from $3,625 to $5,775.
Find a community near you.
If someone you love is living with Alzheimer's disease, dementia or another form of memory loss, help and support are nearby.
---
Frequently asked questions about memory care.
Our Health and Safety Promise
Protecting our residents and team is a priority.
Here's how we do it.
Still Have Questions?
We'd love to answer them.