Independent Living, Defined.
Independent living communities support a retirement lifestyle that makes it easy to enjoy exciting, new experiences — every day. With convenient services, an array of amenities, fulfilling programs and wellness opportunities, residents often find they lead healthier, more active lives — with new friends and neighbors to share it all with.
Should I Consider Independent Living?
Anyone looking for a maintenance-free lifestyle, access to amenities and services, a host of activities, and the socialization community life offers can benefit from the independent living lifestyle. Typically, independent living is for those who:

Don't need care or assistance with daily activities
Want to downsize to a senior-friendly home/apartment
Are looking to retire their home chores, not their lifestyle
Like the idea of activity-filled days surrounded by people
So if you're a healthy senior who wants easier living and the freedom to live according to your own schedule, then yes, you should consider independent living!
I have been here for over 8 years. It's a good place to live. I feel well taken care of and thoroughly enjoy all the things that are available to do. The staff is awesome … I love it.
"I Wish I'd Moved Sooner."
Seniors who move to independent living communities (and their families) love how everything's included in the monthly rent. We often hear them say they wish they'd moved sooner. Here's why:
Maintenance-Free
No more housework. No more yardwork. No more cooking (or dishes) — unless you want to. It all adds up to having extra time to do the things that matter most.
Active Lifestyle
With so many opportunities right at your fingertips, it's easy to be as busy as you want! That's important because studies show staying busy and active means healthier living.
The Social Life
Isolation and loneliness can have devastating effects on your physical and mental well-being. Independent living communities have built-in social schedules and plenty of people always nearby.
Security
Independent and senior living communities are designed with the safety of older adults in mind and feature safety measures that may also help maintain independence.
---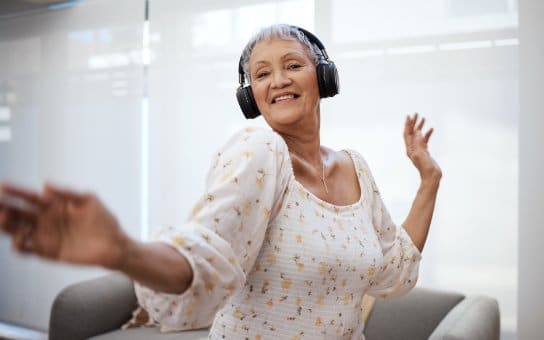 A Lifestyle to Celebrate.
At Cascade Living Group independent living communities, your lifestyle is uniquely yours. In each of our communities, we create personalized experiences for residents. Whether it's finding a new hobby, discovering a hidden talent or enjoying social events with new friends, independent retirement living affords you the freedom — and peace of mind — of knowing things are taken care of. That means you can relax and live how you want!
On-Site Support
Many senior independent living communities also offer assisted living and memory care options so residents can move if health needs change without having to physically move to a different location or find a new community. This ensures residents can stay where they are known and loved, eliminating the need for a stressful move.
Asked. Answered.
You've got questions about independent living. We've got answers. For anything we don't cover, you can call the Cascade Living Group community nearest you. Find a community.
Find A Community near you.
While no two Cascade Living Group communities are alike, each one is built on a foundation of trust, compassion and an unmatched commitment to helping residents discover the difference between living and living well.