Creekside Continuing Care Community
Creekside Continuing Care Community offers a continuum of senior lifestyles — without a high buy-in or entrance fee. Our senior living community offers the best of all worlds, a quiet Burlington, Washington, neighborhood, with proximity to downtown shops, restaurants, and recreational, cultural and educational opportunities.
Special savings available for a limited time*
Address + Phone
400 Gilkey Road
Burlington,
WA
98233
Phone: 360-755-5550
Living Options
Independent Living
Assisted Living
Memory Care
Respite Care
Featured Amenities
Personal concierge services
Robust social calendars
Restaurant-style dining
Game lounges & movie theater
Our Living Options
Creekside Continuing Care Community offers a full a range of senior lifestyles and different forms of adult care, which means if more support or care is ever needed, there's no need to move to another community. And in the event a spouse or partner needs different care, it's right here.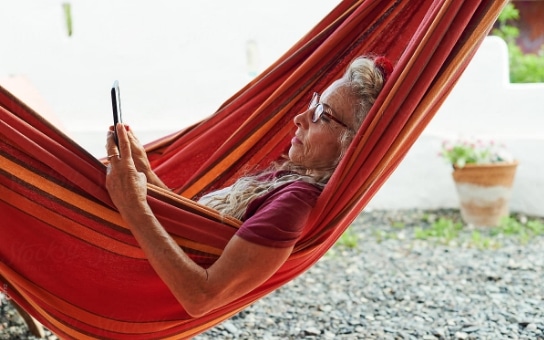 Independent Living
At Creekside, life is easier because an array of conveniences, activities, amenities and personalized services are part of everyday life. What's not part of daily life: cooking, cleaning and home maintenance!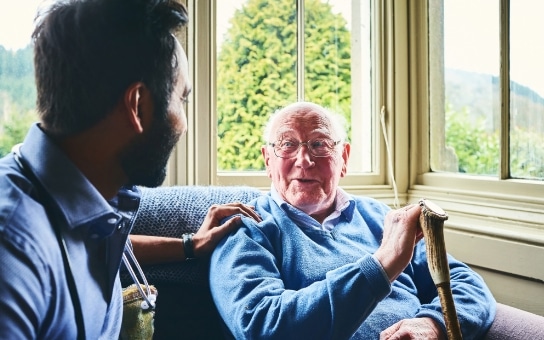 Assisted Living
Our dedicated care partners and expert wellness teams focus on maintaining independence. We believe that a little support, a lot of pampering, and none of the hassles that come with home ownership, means you can live fully and happily while enjoying everything community life has to offer.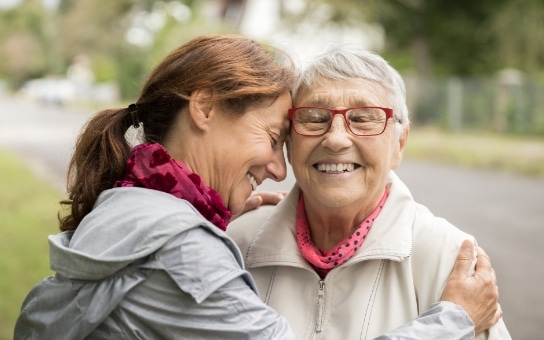 Memory Care
Specialized programming and support from an experienced team who understands all stages of memory loss help residents experience more meaningful moments and more fulfilling days.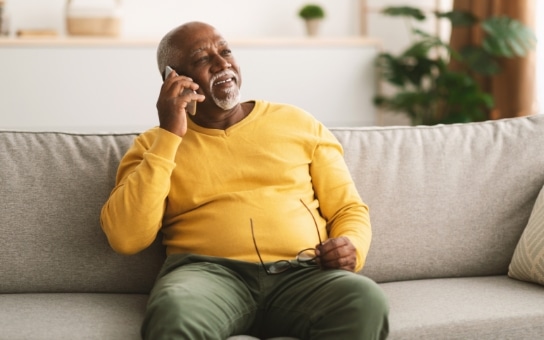 Respite Care
Respite care — or short-term stays — is designed for those caring for aging loved ones who may be going on vacation or who may simply need a temporary respite from caregiving. 
---
Creekside Continuing Care Community … our difference.
A comforting feeling of home. Programs that invigorate and stimulate. A robust social calendar filled with activities and entertainment. Convenient services and amenities. Personalized support that sometimes means knowing your favorite classic movie, other times it means lending a helping hand or a compassionate ear. We've got it all, but what really sets Creekside apart…
Our belief that it's the smallest things make the biggest difference … A warm greeting delivered with a smile. Listening with enthusiasm and interest. Anticipating needs and responding appropriately. Celebrating individuality. Respecting differences.
It's all here. But don't take our word for it…
Our residents weigh in.
The memory care staff is genuinely caring and dedicated. Their compassionate care was comforting to mom and her loved ones.
---
A Day in the Life.
With a focus on preserving — and enhancing — independence, there is every opportunity to live well and thrive at Creekside Continuing Care Community. No matter the lifestyle, our life-enrichment teams create daily opportunities to enhance physical, social, emotional and spiritual well-being by creating programs, activities and entertainment that enrich daily life.
Respite Care
Whether it's for a few days or several weeks, respite care — or short-term stays — offer a glimpse of senior living before making a commitment while affording caregivers the opportunity to take a vacation or to simply rest and recharge. Respite Care residents enjoy the same support and all the same community amenities, services and programs as our full-time residents.
Dining at Creekside.
---
What's Near Our Senior Living Community in Burlington, WA.
Deception Pass State Park
Anacortes and Oak Harbor, Washington
Skagit Speedway
4796 Old Hwy 99 North Rd
Burlington, WA 98233
Roozengaarde
15867 Beaver Marsh Rd.
Mount Vernon, WA 98233
Heritage Flight Museum
15053 Crosswind Dr.
Burlington, WA 98233
Garden Rosalyn
16648 Jungquist Rd.
Mount Vernon, WA 98273
Floor Plans
Size up your living space with an independent living cottage or a residence in our assisted living community that features well-appointed studios and one- or two-bedroom apartments. Each one is designed for the way today's seniors want to live. Ranging in sizes and designs, there's one perfect for every taste, need and budget. No matter which cottage or apartment best meets your family's needs, a world of amenities and services, opportunities and excitement is just steps outside each apartment door.
Take a Virtual Tour of our Creekside Continuing Care Community
Special savings available for a limited time* — call now to speak with an advisor!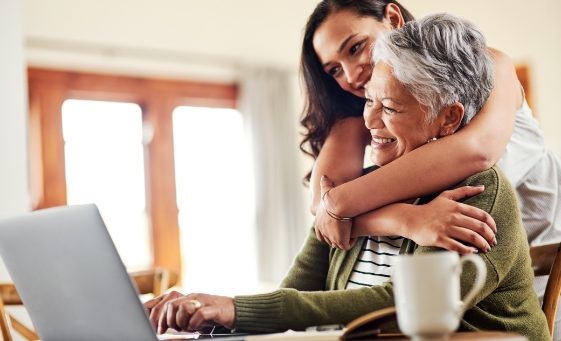 What is the true cost of living at Creekside Continuing Care Community?
Meals: check. Social life: check. Maintenance and housekeeping: check. Support if it's needed: check. When you factor in everything covered in the pricing at Creekside and compare it to the cost of remaining at home, you'll discover the real value of senior living and find a cost-effective option that's designed to enhance life in every way. Better yet, unlike other communities that offer a continuum of care, Creekside does NOT require a high buy-in or entrance fee.
---
Meet our team.
Everyone at Creekside loves what they do — and it shows. From our culinary team to our care partners to our maintenance crew, our team enjoys a sense of real empowerment. They know the residents best, so the leadership team listens to and learns from them. While every associate is committed to resident comfort, safety, care, and happiness, it's this hands-on team that creates the genuine feeling of family found at our Burlington, WA, Continuing Care Community. It's truly a community where everyone cares for and about one another — and it all starts with our care associates.
Care Team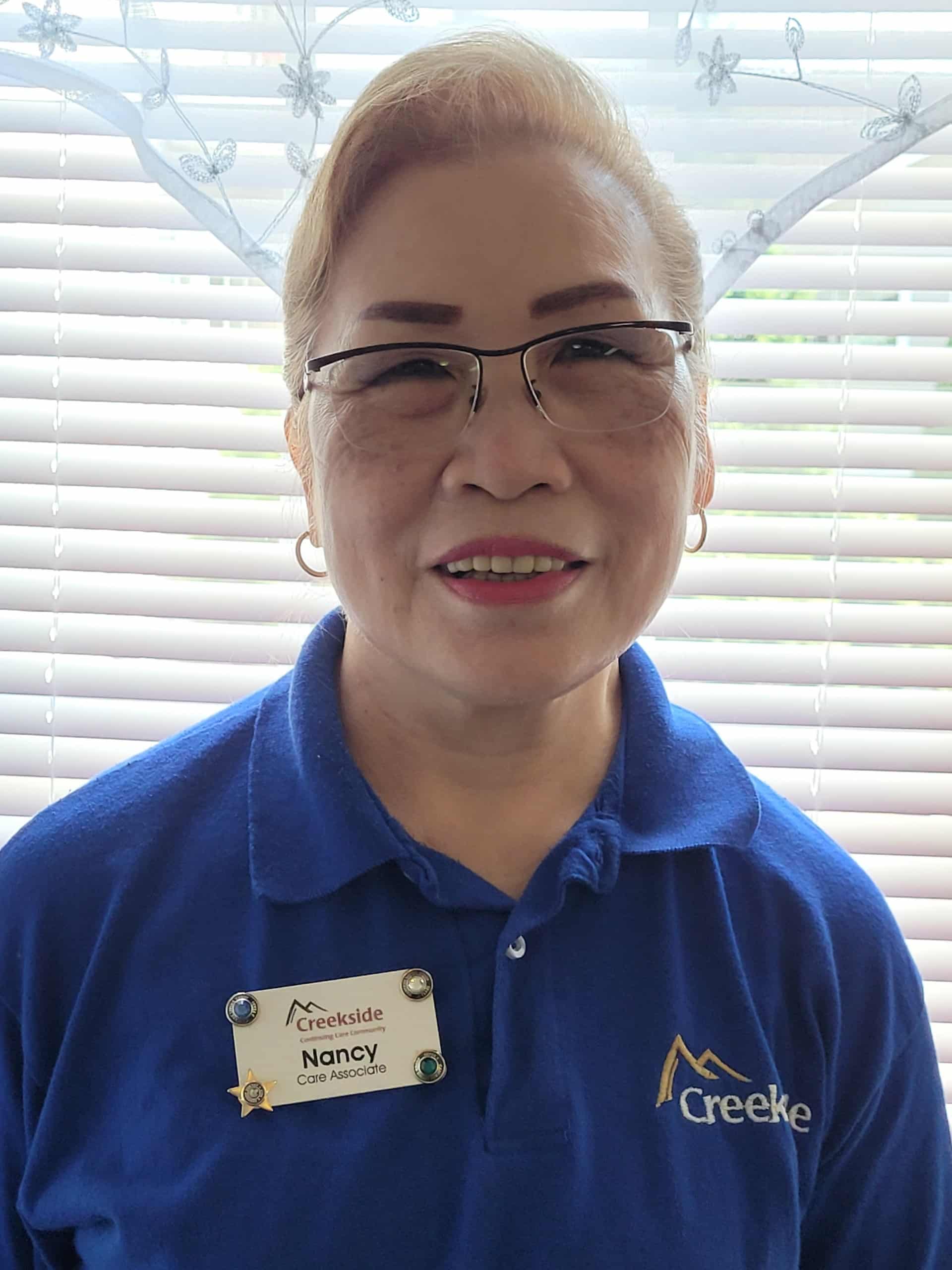 Nancy Gonzales
Caregiver
A 13+ year employee, Nancy is still going strong at 69! What keeps her going: caring for our residents because they have made her more caring, loving, compassionate, flexible, and accessible.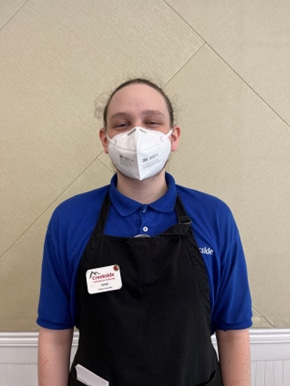 Jacob Gutierrez
Dining Services
While Jacob loves cooking and serving residents, his favorite part of the job is visiting with them. He says, their incredible stories and experiences enrich life – "we can learn a lot from their wisdom."
Astrid Sanchez
Housekeeper
Astrid is a housekeeper who keeps the community as bright and shiny as her signature red shoes. While she started in hotel housekeeping, she says there's nothing better than senior living!
Office Team
Catherine Bowman
Executive Director
Catherine started in senior living as a server. Inspired by caregivers, she became a nurse herself, holding many different positions. Though nursing is her a passion, she gladly accepted this new challenge.
Dawn McComas
Community Relations Director
Dawn started her career in the kitchen of a nursing home. She became a hands-on caregiver before earning a degree in Human Services — Her compassion and leadership skills make her a CRD families and residents trust.
Crystal Diemert
Life Enrichment Director
Crystal Diemert has been working in senior living for the past 20 years. First as an activity assistant, coordinator and now director. Crystal has some experience in the small businesses, preschool teacher, bus driver, & front office but quickly realized her calling was in Life Enrichment.
Charlotte Green
Dining Services Director
Char started in food services as a teenager and has been a Dining Director for decades. She explored other opportunities but says there's just something about senior living that keeps bringing you back!
Kim Smith
Business Office Manager
From evening concierge to Business Office Manager, Kim loves the relationships she's made with residents and families. Fun fact: Kim is a professional cake decorator!
Jamie Haines
Environmental Services Director
Jamie has been keeping the community maintained, sparkling and bright since it opened. She loves what she does and says the best part of the job is getting to know the residents.
Rick Gordon
Plant Operations Director
Rick Gordon is a Renaissance man. He's been a builder, electrician, jet and yacht mechanic and small business owner (custom doors), there's no problem, Rick can't successfully address.
Discover more Alzheimer's & Dementia Insights
Get in Touch.
It would be our pleasure to talk to you about our senior living community in Burlington, WA, and how we may be of service.
Special savings available for a limited time * — call now to speak with an advisor!
* Limited availability. Some restrictions apply.
Our Health and Safety Promise
Protecting our residents and team is a priority.
Here's how we do it.